This article explains the information you should have at hand when completing the Cuba Tourist Visa Application Form online at VisaCuba.com, eligibility criteria, and some additional common questions concerning the application process and delivery of your Cuba Tourist Card
Who needs to fill out the Cuba Tourist Visa Application Form?
Everyone travelling to Cuba for tourism purposes needs to complete the Cuba Tourist Visa Application form at visacuba.com.
UK passport holders and EU citizens are required to purchase a tourist card in order to clear Cuban customs at the point of entry (airport, ports, etc.)
A few nationalities are exempt from Cuban visas, which appear listed on the FAQs section of our website.
The Cuba Tourist Visa Application Form is for tourism only. If you are travelling as a journalist, on business, to visit family or any other category you should not use Visa Cuba's ä Application form. Instead, the Cuban consulate should be contacted for more information and appointments.
Is the Tourist Visa Application Form online only?
The safest and fastest way to complete the Cuba Tourist Visa Application Form in online from our website – visacuba.com.
However, if you'd like to apply in person, feel free to make an appointment and visit our offices in Crystal Palace (Foresters Hall, 25-27 Westow Street, London, SE19 3RY)
If you are having difficulties completing the tourist card application form on a computer and travelling to London is not an option, we'd recommend you seek assistance from a family member, friend, or trusted colleague as we are unable at this time to use printed copies of the tourist card application forms or receive payments for our service over the phone.
Is everyone eligible to apply online at visacuba.com?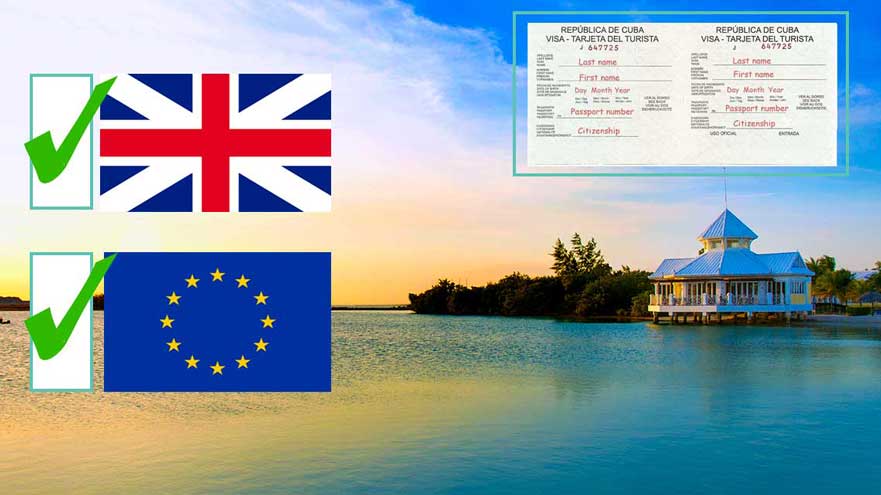 Almost everyone. We are unable to provide visas to passport holders of the following countries: Afghanistan, Algeria, Bangladesh, Cameroon, Egypt, Eritrea, Ethiopia, Ghana, Guinea, India, Iran, Iraq, Kenya, Libya, Nepal, Nigeria, Pakistan, Philippines, Sierra Leone, Somalia, Sri Lanka, Syria, Tunisia, USA, Yemen and natives of the Fujian Province.
Information you should have at hand to complete the Cuba Tourist Visa Application Form
The Cuba Tourist Visa Application form is very simple and straightforward. The following information should be provided to us for every person travelling to Cuba with you, including infants.
Here's the information we'll need to process and deliver your Cuban Visa:
1. Your personal details, as they appear in your passport
Full name
Date of Birth
Citizenship
Country of Residence
Passport Number
This is the information we need to validate your eligibility to obtain a Cuba Tourist Visa
2. Your departure date
This information we need essentially to determine how soon you need your Tourist Card delivered to your designated address. For instance, if you are travelling within the next two weeks and chose our standard service, the risk of you not getting the visa on time is too high, therefore our system will upgrade you to priority service automatically.
3. Delivery Options
Your Cuba Tourist Card will be delivered via Royal Mail. We provide our clients several delivery options:
Royal Mail First Class, which is included on our price and takes about a week to reach you (usually less than that)
First Class Signed For, which costs £2 but allows you to track your delivery and requires a signature for the visa to be delivered.
Special Delivery, which costs £7 but ensures you receive your Cuba Visa the next working day.
International deliveries are handled by DHL and cost £40

Or you can choose at this stage our Office collection service. If you choose this option, you'll need to get in touch with us to arrange a suitable collection time and date.
4. Billing Address, only if different from the delivery address.
5. Payment details, which are safely processed by reputed provider Paysafe.
How soon will I receive my Cuba Tourist Card after completing the Cuba Tourist Visa Application Form?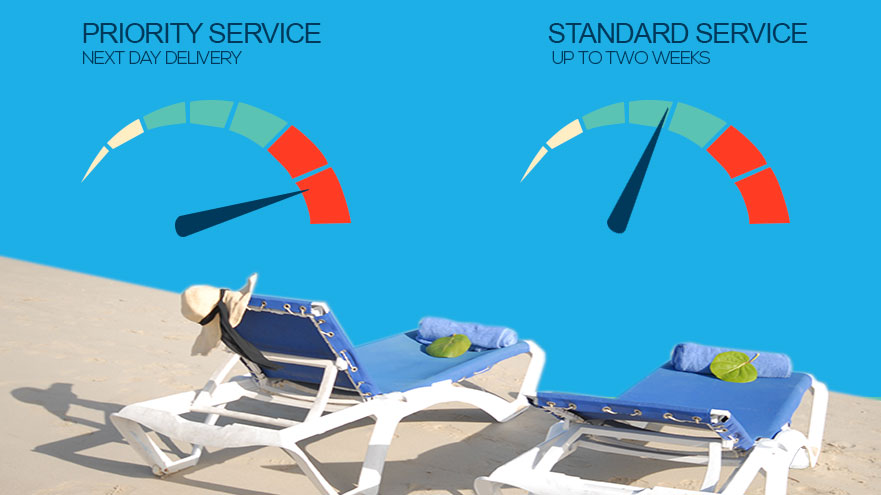 Depending on how soon you'll need your Cuba Tourist Card, you can choose two levels of service:
Standard. We aim to process your application and post your tourist card within five days.
Priority: We process and post your application on the same day, provide your Cuba Tourist Visa Application Form reaches us before 2pm on a working day (Mon-Fri)
Then you can choose how fast you'd want your delivery:
First Class, and First Class Signed For typically take up to 7 days for the Tourist Card to reach you.
With Special Delivery, you'd receive your Tourist Card on the next working day following your application.
For office collection, it is often up to how soon you can come to our office. Exceptionally we might not be able to confirm your chosen date, but more often than not we are available and happy to help.
For international deliveries is a bit trickier to calculate. You should check DHL's website for estimated delivery times between the UK and your country of residence.
The table below can help you calculate the most convenient option based on price and processing and delivery times: