UK passport holders need a visa to visit Cuba
If you are travelling to Cuba with a British Passport, in the tourism category, you will need a visa in order to clear immigration checkpoints in Cuba.
Obtaining a visa to visit Cuba is very simple. You can either obtain it from the Cuban Consulate in London or purchase it from visacuba.com and have it delivered to your address.
At VisaCuba.com, you can purchase Cuban visas for yourself and everyone else travelling with you in a single application, which is faster and more convenient than submitting individual applications
You do not need to send us your passport or travel document to get a visa stamped. The visa the Cuban Consulate issues to visit Cuba for tourism purposes is not stamped on your passport. (see picture below)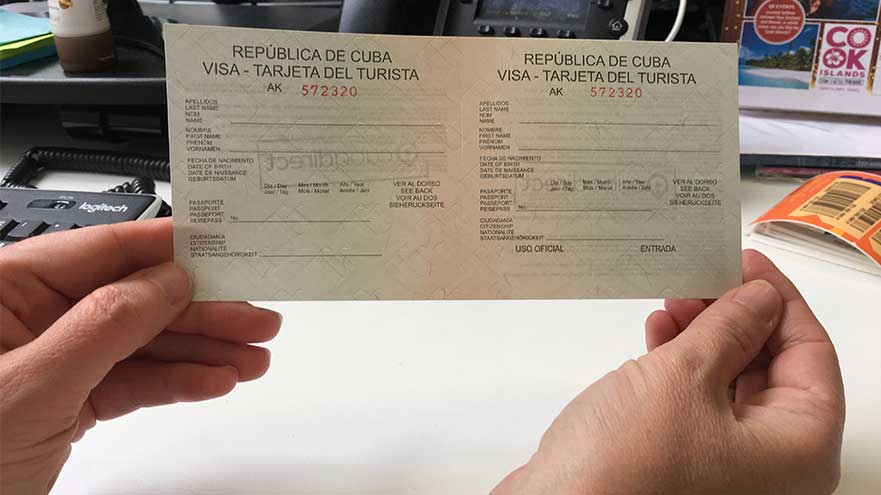 The official visa – also known as Cuba Tourist Card – is a slip of official paper and not a sticker attached to your passport.
The Cuban visa features your personal details and our stamp so Cuban Immigration Authorities know it was issued by a certified partner of the Cuban Consulate. (see picture below)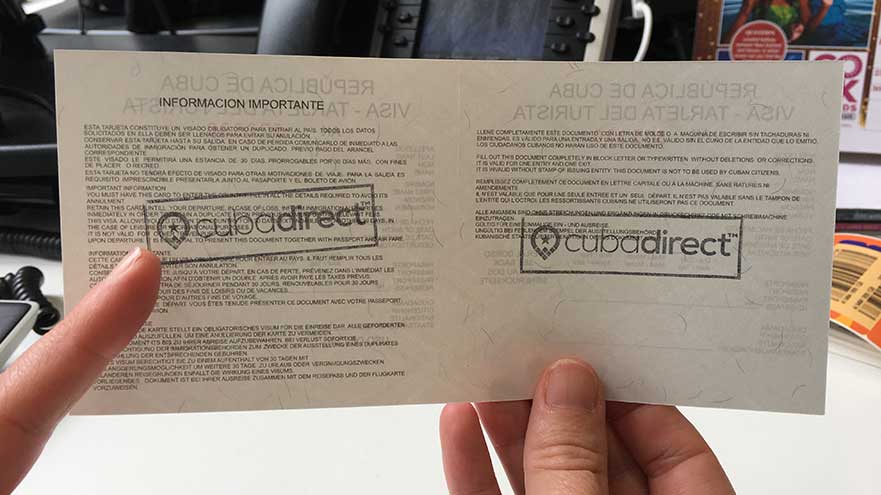 Therefore, you are able to complete your application online at VisaCuba.com and we will post the visa to your designated address via Royal Mail.
You will need a visa to visit Cuba if you travel with a passport from one of the following countries
UK residents, including citizens and residents from other nationalities, are required a visa to visit Cuba.
Airlines flying to Cuba will prevent you from boarding the flight to Cuba if you are unable to produce a valid Cuban visa.
Passport holders from all nationalities, with the exception of Cubans themselves and a handful of other nationalities, are subject to the same requirements.
Most nationals are able to obtain their Visa to visit Cuba online at visacuba.com
However, the Cuban Consulate stipulates that travellers visiting Cuba with a passport from the following countries must apply for a visa in person at the Cuban Embassy in London:
Afghanistan,
Bangladesh,
Cameroon,
Eritrea,
Ethiopia,
Ghana,
Guinea,
Haiti,
Iran,
Iraq,
Kenya,
Nepal,
Nigeria,
Pakistan,
Philippines,
Sierra Leone,
Somalia,
Sri Lanka,
Syria,
Tunisia,
and Yemen.
You will not need a visa to visit Cuba if you travel with a passport from one of the following countries
In 2014 the Cuban Immigration Service published a list exempting citizen of the following countries from tourist visa requirements.
However, we cannot guarantee that this is still accurate so if you are a citizen of one of these countries you should contact your nearest Cuban Embassy/Consulate to confirm:
Antigua & Barbuda,
Azerbaijan,
Barbados,
Belarus,
Bosnia & Herzegovina,
Dominica,
Georgia,
Grenada,
Liechtenstein,
Macedonia,
Malaysia,
Moldova,
Namibia,
Russia,
Saint Lucia,
Saint Kitts & Nevis,
Tajikistan and
Turkmenistan.
How to obtain a visa to visit Cuba
To obtain a tourist visa to visit Cuba, all you need to do is to complete the form on our website.
You will need the details of everyone travelling with you as they appear in your passport.
You will also need to have accommodation in Cuba booked in order to obtain your Cuba Visa.
If you'd like more information on the Cuba Tourist Visa Application Form, please read this post.
If you'd like help booking your accommodation in Cuba, our parent company and Cuba Holidays specialist Cuba Direct â can help you sort that out in a jiffy.